TF-Robots New & Vintage Day
160m2 market for new & vintage Transformers and toys
Free entrance
 
Date:

Sunday 31 May 2020 CANCELED

Time:

11:00 -16:00

Location:

De Uitwijk

Address:

Generaal Pattonlaan 124
5623KC Eindhoven

Route:

Transportation by bus (every 5-10 minutes)
1) Departure Eindhoven Station: Bus 322, 405 and 406.
2) Arrival bus stop: Generaal Pattonlaan
3) Walk 1 minute to Generaal Pattonlaan 124

Parking:

You can park your car for free in the surrounded area of the location.

Attention: it is not possible to register as a dealer for the TF-Robots New & Vintage Day.

TF-Robots store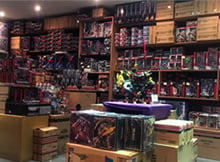 Openings hours:
Saturday 11:00h - 17:00h
To visit our shop, you have to make an appointment by e-mail: service@tfrobots.nl.

WEARING FACE COVERINGS IS MANDATORY WHEN VISITING OUR SHOP.

Address:
Kromstraat 25, Veldhoven.
More information here
.

Fixed shipping fee with tracking
All shipments with insurance - no risk when losing shipments
Shipped from The Netherlands - no import tax in all European Countries
Shopping cart
No items in shopping cart.