FAQ
Frequently asked questions
1) How to add a new order to an existing order?
First you have to choose pick up in our shop. There will be no shipping fee charged. Please write in the comments to which order we have to add your items to. We will ship out the order when all items are in stock.
2) Do you have a release date for my pre order?
Most of the time we will get an E.T.A. from the factory, but often they are not in time with their releases. Therefore you can not held us responsible for delayments of your pre order.

3) When will you ship my order?
We will ship out your order as soon as possible. In most of the times, we ship your order in 1 day. This does not include pre orders. These orders will ship out when available.
4) What does payment method Pre Transfer mean?
Pre transfer means payment by bank wire transfer. After you confirmed your order and you have chosen Pre Transfer, you will get an invoice with our bank information to make the payment. After we have received your payment, we will send you a confirmation of receiving the payment by
e-mail.
5) TF Robots will attend the following conventions:
Dutch Comic Con
http://www.dutchcomiccon.com/nl
TF Robots New & Vintage Day
3rd Edition
https://www.tf-robots.nl/c-4749377/tf-robots-new-vintage-day/
C.O.N.S.
http://www.ntf-cons.de/
Velsercon
http://velsercon.nl/
20&21 November 2021
Dutch Comic Con
http://www.dutchcomiccon.com/nl
TF Robots at the Dutch Comic Con 2019

Shopping cart
No items in shopping cart.

TF-Robots store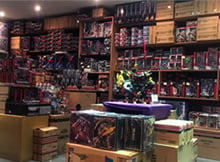 Openings hours:
| | |
| --- | --- |
| Wednesday | 14:00h - 17:00h |
| Thursday | 14:00h - 17:00h |
| Friday | 14:00h - 17:00h |
| Saturday | 11:00h - 17:00h |
Address:
Fabrieksweg 3K, Bladel.

Fixed shipping fee with tracking
All shipments with insurance - no risk when losing shipments
Shipped from The Netherlands - no import tax in all EU-Countries