Sideswipe
Sideswipe is not nearly as much of a sociopath as his brother Sunstreaker, but he is every bit as skillful. He's more into battle for the sport of it. A bit of a jock, Sideswipe most craves a glorious fight to the finish as a test of his mettle.
There is a reckless edge to Sideswipe's tactics. He makes rash decisions that may endanger him, all in the name of possible victory. Cheating is also not out of the question. When everything is on the line, for Sideswipe, nothing is out of the question. Over time, his reckless attitude has not changed. However, his cause has; once in it solely for the glory, now he's driven by the desire to defend freedom and the innocent.
(Source: www.tfwiki.net)
Shopping cart
No items in shopping cart.

TF-Robots store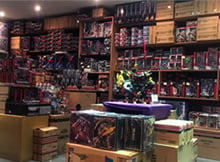 Openings hours:
| | |
| --- | --- |
| Wednesday | 14:00h - 17:00h |
| Thursday | 14:00h - 17:00h |
| Friday | 14:00h - 17:00h |
| Saturday | 11:00h - 17:00h |
Address:
Fabrieksweg 3K, Bladel.

Fixed shipping fee with tracking
All shipments with insurance - no risk when losing shipments
Shipped from The Netherlands - no import tax in all EU-Countries