Blitzwing
Ability as Triple Changer to rapidly transform makes him one of the most dangerous Decepticons. Cruel sense of humor; but formerly loud-mouthed, belligerent, and brash until after the five-part mini-series "The Five Faces of Darkness", when he became a partial pacifist yet still loyal to his team. As jet, he flies at mach 2.7, range 1500 miles, has heat-seeking concussion missiles. As tank, has track-mounted cannon that fires explosive shells 3.5 miles. As robot has electron-scimitar and gyro-blaster rifle. Often gets stuck in mid-transformation. Can alter his body mass to a larger size for transporting troops/cargo.
(Source: Wikipedia)
Shopping cart
No items in shopping cart.

TF-Robots store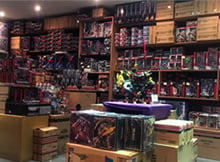 Openings hours:
| | |
| --- | --- |
| Wednesday | 14:00h - 17:00h |
| Thursday | 14:00h - 17:00h |
| Friday | 14:00h - 17:00h |
| Saturday | 11:00h - 17:00h |
Address:
Fabrieksweg 3K, Bladel.

Fixed shipping fee with tracking
All shipments with insurance - no risk when losing shipments
Shipped from The Netherlands - no import tax in all EU-Countries