Sandstorm
Always takes death-defying risks. Anything less than dangerous is boring to him. In battle, gets close enough to count the bolts in Decepticon armor plates. As helicopter and buggy, he's adept at using rotors and exhaust to whip up blinding clouds of dust and sand. Extremely maneuverable. Carries sandblaster gun that shoots streams of silicate particles that can erode anything.
(Source: Wikipedia)

TF-Robots store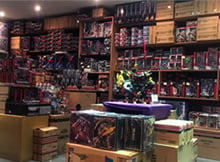 Openings hours:
Saturday 11:00h - 17:00h
To visit our shop, you have to make an appointment by e-mail: service@tfrobots.nl.

WEARING FACE COVERINGS IS MANDATORY WHEN VISITING OUR SHOP.

Address:
Kromstraat 25, Veldhoven.
More information here
.

Fixed shipping fee with tracking
All shipments with insurance - no risk when losing shipments
Shipped from The Netherlands - no import tax in all EU-Countries
Shopping cart
No items in shopping cart.