Brawl
Noisy, irritates all nearby. Hair-trigger temper, blusteringly belligerent... a terrifyingly effective warrior. Enormously strong, resistant to most conventional artillery. As tank, goes 45 mph, range 600 miles. Turret-mounted gun shoots 200 lbs. TNT-equivalent shells, twin sonic cannon shoots powerful, ear-splitting 300-decibel bursts of concentrated sound energy in stereo. In robot mode, has 10-Megawatt electron gun.
(Source: Wikipedia)

TF-Robots store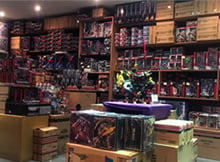 Openings hours:
Saturday 11:00h - 17:00h
To visit our shop, you have to make an appointment by e-mail: service@tfrobots.nl.

WEARING FACE COVERINGS IS MANDATORY WHEN VISITING OUR SHOP.

Address:
Kromstraat 25, Veldhoven.
More information here
.

Fixed shipping fee with tracking
All shipments with insurance - no risk when losing shipments
Shipped from The Netherlands - no import tax in all European Countries
Shopping cart
No items in shopping cart.