Tantrum
Prefers brute force over reason and will NEVER back down from a challenge. Steam comes from his nasal ducts when he's enraged. Smashes head-first into highway trestles and small buildings to relieve his aggression. Always feels better afterwards. Carries 4 exterior fuel tanks, capacity 1600 gallons, as a reserve for himself and his comrades. His horns shoot bolts of 20,000 volt electricity. Carries a catalytic carbine that shoots destructive chemicals, and an electro-sword.
(Source: Wikipedia)

TF-Robots store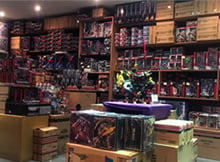 Openings hours:
Saturday 11:00h - 17:00h
To visit our shop, you have to make an appointment by e-mail: service@tfrobots.nl.

WEARING FACE COVERINGS IS MANDATORY WHEN VISITING OUR SHOP.

Address:
Kromstraat 25, Veldhoven.
More information here
.

Fixed shipping fee with tracking
All shipments with insurance - no risk when losing shipments
Shipped from The Netherlands - no import tax in all European Countries
Shopping cart
No items in shopping cart.