Razorclaw
As leader of the Predicons, he's all business. Hates waste in any form... won't burn an extra drop of fuel unless he's certain the results will be worth the effort. Long stretches of inactivity often mistaken for laziness. Explodes into furious, ferocious action when it's time to strike. As lion, can leap distances as long as a football field. Claws can rip through foot-thick steel. Has twin concussion blasters and sonic sword.
(Source: Wikipedia)

TF-Robots store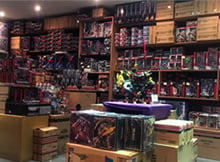 Openings hours:
Saturday 11:00h - 17:00h
To visit our shop, you have to make an appointment by e-mail: service@tfrobots.nl.

WEARING FACE COVERINGS IS MANDATORY WHEN VISITING OUR SHOP.

Address:
Kromstraat 25, Veldhoven.
More information here
.

Fixed shipping fee with tracking
All shipments with insurance - no risk when losing shipments
Shipped from The Netherlands - no import tax in all European Countries
Shopping cart
No items in shopping cart.