Tailgate
He sometimes has his mind stuck in low gear, believes 55 mph speed limit is infringement on rights of cars. Garages are prisons to him... doesn't understand Earth machines are not alive. Goes 180 mph, range 600 miles. Uses ferrocobalt magnet under hood to be pulled by and within a few feet of other vehicles, reducing his fuel use to near zero. Prone to overheating.
(Source: Wikipedia)

TF-Robots store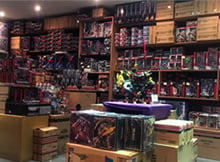 Openings hours:
Saturday 11:00h - 17:00h
To visit our shop, you have to make an appointment by e-mail: service@tfrobots.nl.

WEARING FACE COVERINGS IS MANDATORY WHEN VISITING OUR SHOP.

Address:
Kromstraat 25, Veldhoven.
More information here
.

Fixed shipping fee with tracking
All shipments with insurance - no risk when losing shipments
Shipped from The Netherlands - no import tax in all European Countries
Shopping cart
No items in shopping cart.