Slingshot
He won't ever win a Mr. Popularity contest - incessant braggart, takes credit for exploits of other Autobots. Optimus Prime is supportive since he's hard-working and loyal, but he secretly lacks self-confidence. Vertical-take-off-and-landing aircraft, flies at Mach 1.6, range 800 miles, extremely maneuverable. Sharpshooter - has twin mortar cannons as jet, neutron rifle as robot.
(Source: Wikipedia)

TF-Robots store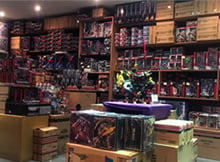 Openings hours:
Saturday 11:00h - 17:00h
To visit our shop, you have to make an appointment by e-mail: service@tfrobots.nl.

WEARING FACE COVERINGS IS MANDATORY WHEN VISITING OUR SHOP.

Address:
Kromstraat 25, Veldhoven.
More information here
.

Fixed shipping fee with tracking
All shipments with insurance - no risk when losing shipments
Shipped from The Netherlands - no import tax in all European Countries
Shopping cart
No items in shopping cart.