Thrust
He rattles the air with the roar of his jets... believes half the battle is won if the opponent is "psyched out" by his mere arrival, so he makes no attempt to be sneaky. Pompous, loud-mouthed braggart and not too brave. Sudden, powerful accelerations can topple nearby buildings. Flies at mach 2.5, can double speed in 20 seconds for up to two minutes. Carries four air-to-air missiles and two automatic missile launchers in robot mode.
(Source: Wikipedia)

TF-Robots store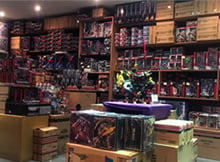 Openings hours:
Saturday 11:00h - 17:00h
To visit our shop, you have to make an appointment by e-mail: service@tfrobots.nl.

WEARING FACE COVERINGS IS MANDATORY WHEN VISITING OUR SHOP.

Address:
Kromstraat 25, Veldhoven.
More information here
.

Fixed shipping fee with tracking
All shipments with insurance - no risk when losing shipments
Shipped from The Netherlands - no import tax in all European Countries
Shopping cart
No items in shopping cart.