Pipes
Fascinated by seemingly worthless Earthen gadgetry - carrot juicers, musical wrist-watches, electrical hair combers, etc.. Collects them in unused corner of Ark, creating a mini museum of American consumerisim. Travels at 100 mph, range 400 miles, hauls up to 60 tons. Twin exhaust pipes emit corrosive gases that can dissolve 2" thick steel slab in 10 minutes.
(Source: Wikipedia)

TF-Robots store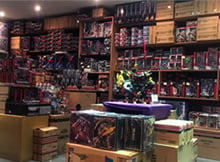 Openings hours:
Saturday 11:00h - 17:00h
To visit our shop, you have to make an appointment by e-mail: service@tfrobots.nl.

WEARING FACE COVERINGS IS MANDATORY WHEN VISITING OUR SHOP.

Address:
Kromstraat 25, Veldhoven.
More information here
.

Fixed shipping fee with tracking
All shipments with insurance - no risk when losing shipments
Shipped from The Netherlands - no import tax in all European Countries
Shopping cart
No items in shopping cart.