Smokescreen
Whether engaged in raging battle or friendly conversation, an ulterior purpose usually exists. Job is to lead enemy astray. Sneaky, but charming and affable... considered most devious yet most trusted of Autobots. In car mode, emits thick smoke from tailpipe... attracts to metal. In robot mode, shoots missiles which wreak havoc on enemy aircraft radar and guidance systems... electro-disrupter rifle shorts out electrical targets.
(Source: Wikipedia)

TF-Robots store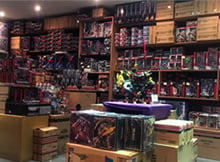 Openings hours:
Saturday 11:00h - 17:00h
To visit our shop, you have to make an appointment by e-mail: service@tfrobots.nl.

WEARING FACE COVERINGS IS MANDATORY WHEN VISITING OUR SHOP.

Address:
Kromstraat 25, Veldhoven.
More information here
.

Fixed shipping fee with tracking
All shipments with insurance - no risk when losing shipments
Shipped from The Netherlands - no import tax in all European Countries
Shopping cart
No items in shopping cart.