Skywarp
Teleportation is a dangerous tool in the hands of a capable adversary. Thankfully for the Autobots, Skywarp is the only Decepticon who possesses that ability. Skywarp's not so bright, so without supervision he's worthless as a warrior. He mostly uses his teleportation power for immature pranks on both friend and foe. He takes a charmingly puerile angle at thuggery, so his pranks are well-received amongst his Decepticon peers (excepting the victim, of course).
Because, come on, a surprise push down a staircase is hilarious.
Sometimes he is known as Hellwarp.
(Source: www.tfwiki.net)
Shopping cart
No items in shopping cart.

TF-Robots store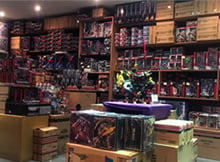 Openings hours:
| | |
| --- | --- |
| Wednesday | 14:00h - 17:00h |
| Thursday | 14:00h - 17:00h |
| Friday | 14:00h - 17:00h |
| Saturday | 11:00h - 17:00h |
Address:
Fabrieksweg 3K, Bladel.

Fixed shipping fee with tracking
All shipments with insurance - no risk when losing shipments
Shipped from The Netherlands - no import tax in all EU-Countries