Silverbolt
Scared of heights. Brave, grimly determined warrior, but he struggles to maintain that image in order to hide his phobia. Selected by Optimus Prime to command so he'd be too busy worrying about others to worry about himself. In jet mode, speed of Mach 1.9, range 4500 miles. Carries electrostatic battery that releases bolt of up to 150,000 volts through his nose cone. Uses electrostatic discharger rifle in robot mode.
(Source: Wikipedia)

TF-Robots store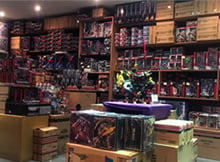 Openings hours:
Saturday 11:00h - 17:00h
To visit our shop, you have to make an appointment by e-mail: service@tfrobots.nl.

WEARING FACE COVERINGS IS MANDATORY WHEN VISITING OUR SHOP.

Address:
Kromstraat 25, Veldhoven.
More information here
.

Fixed shipping fee with tracking
All shipments with insurance - no risk when losing shipments
Shipped from The Netherlands - no import tax in all EU-Countries
Shopping cart
No items in shopping cart.