Strafe
He never looks at his targets before he shoots since he never aims—he just sprays artillery in all directions as soon as he arrives. High-strung, unnerved by quiet, expert marksman. Lightning fast reflexes. In vehicle mode, maximum ground speed: 250 mph; maximum air speed: 580 mph. Carries twin automatic light-pulse blasters. In robot mode, uses heat-ray rifle.
(Source: Wikipedia)

TF-Robots store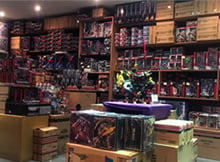 Openings hours:
Saturday 11:00h - 17:00h
To visit our shop, you have to make an appointment by e-mail: service@tfrobots.nl.

WEARING FACE COVERINGS IS MANDATORY WHEN VISITING OUR SHOP.

Address:
Kromstraat 25, Veldhoven.
More information here
.

Fixed shipping fee with tracking
All shipments with insurance - no risk when losing shipments
Shipped from The Netherlands - no import tax in all European Countries
Shopping cart
No items in shopping cart.