Alpha Trion
The oldest Autobot. One of the original creations of the Cybertronian super-computer Vector Sigma. Was once known as A3 in his earliest days. Was the guardian of the Matrix of Leadership when it had no bearer and was the one who created Optimus Prime. His body is lifeless but his spirit remains in Vector Sigma as well as the Matrix of Leadership.
(Source: Wikipedia)

TF-Robots store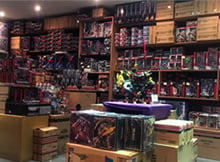 Openings hours:
Saturday 11:00h - 17:00h
To visit our shop, you have to make an appointment by e-mail: service@tfrobots.nl.

WEARING FACE COVERINGS IS MANDATORY WHEN VISITING OUR SHOP.

Address:
Kromstraat 25, Veldhoven.
More information here
.

Fixed shipping fee with tracking
All shipments with insurance - no risk when losing shipments
Shipped from The Netherlands - no import tax in all European Countries
Shopping cart
No items in shopping cart.