Ironhide
"Go chew on a microchip," is Ironhide's slogan. Prefers action to words. Oldest, toughest, most battle-tested Autobot. Bodyguard to Optimus Prime. In charge of guarding anything of importance. Gruff but kind. Trithyllium-steel skin makes him nearly invulnerable to attack. Shoots variety of liquids from supercooled nitrogen to superheated lead. Has sonar, radar, radiowave detector. Slowest and most fragile of the group.

TF-Robots store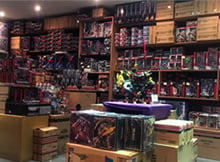 Openings hours:
Saturday 11:00h - 17:00h
To visit our shop, you have to make an appointment by e-mail: service@tfrobots.nl.

WEARING FACE COVERINGS IS MANDATORY WHEN VISITING OUR SHOP.

Address:
Kromstraat 25, Veldhoven.
More information here
.

Fixed shipping fee with tracking
All shipments with insurance - no risk when losing shipments
Shipped from The Netherlands - no import tax in all European Countries
Shopping cart
No items in shopping cart.