Nancy
Nancy is a Junkion who appears to be the consort of the Junkion leader Wreck-Gar, and is the only known female Junkion. Nancy also seems to have some sort of relationship with a Wreck-Gar as well, perhaps a romantic one. The only transformer with a human name, she spending countless hours watching TV, and like all Junkions she can be blasted to pieces without taking any noticeable permanent damage, and is capable of repairing herself within seconds.
(Source: Wikipedia)

TF-Robots store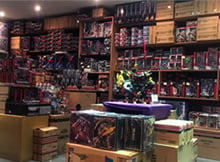 Openings hours (starting from 26 June 2021) :
| | |
| --- | --- |
| Wednesday | 14:00h - 17:00h |
| Thursday | 14:00h - 17:00h |
| Friday | 14:00h - 17:00h |
| Saturday | 11:00h - 17:00h |

Address:
Kromstraat 25, Veldhoven.
More information here.

Fixed shipping fee with tracking
All shipments with insurance - no risk when losing shipments
Shipped from The Netherlands - no import tax in all EU-Countries
Shopping cart
No items in shopping cart.