Skids
A daydreamer... often bumps into things at 60 mph while pondering Earth life instead of a Decepticon attack. Considers Earth one vast lab for his research. His findings are often invaluable to fellow Autobots. Enormous memory storage capacity. Carries a liquid nitrogen rifle with 600 foot range. Twin electron blaster of 20,000 volts can short-circuit almost anything. At 560 mph can stop within 25 feet. Not very fast... often in danger due to daydreaming.
(Source: Wikipedia)

TF-Robots store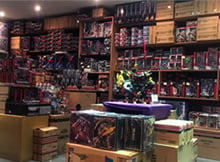 Openings hours:
Saturday 11:00h - 17:00h
To visit our shop, you have to make an appointment by e-mail: service@tfrobots.nl.

WEARING FACE COVERINGS IS MANDATORY WHEN VISITING OUR SHOP.

Address:
Kromstraat 25, Veldhoven.
More information here
.

Fixed shipping fee with tracking
All shipments with insurance - no risk when losing shipments
Shipped from The Netherlands - no import tax in all European Countries
Shopping cart
No items in shopping cart.