Blurr
Blurr is the fastest Autobot on land. He's a close descendent to a thoroughbred Cybertronic race horse, and a superior messenger. He can quickly whisk information from one place to another. In robot mode, he carries an electro-laser that reverses the polarity of an enemy robot's microcircuts and leaves them motionless. Range: 10 miles. In vehicular mode, he can travel faster than the speed of sound, leaving a blurred image in his trail. As a Targetmaster, he is paired with Haywire, excitable Nebulan teenager whose impulsiveness makes him a chancy electro-laser cannon, at best.
(Source: Wikipedia)
Shopping cart
No items in shopping cart.

TF-Robots store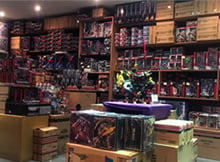 Openings hours:
| | |
| --- | --- |
| Wednesday | 14:00h - 17:00h |
| Thursday | 14:00h - 17:00h |
| Friday | 14:00h - 17:00h |
| Saturday | 11:00h - 17:00h |
Address:
Fabrieksweg 3K, Bladel.

Fixed shipping fee with tracking
All shipments with insurance - no risk when losing shipments
Shipped from The Netherlands - no import tax in all EU-Countries