Reflector
Reflector likes to watch. He lives (they live?) to observe anything and everything, from scenery, to wildlife, to architecture. But above all else, Reflector likes to watch his (their?) comrades, learn their dark secrets, and profit from them. Reflector is also very impressed with his (their) own abilities both in the fields of observation and blackmail.
Reflector is generally composed of three separate robots—Spectro, Spyglass and Viewfinder—who combine into the one single-lens-reflex camera altmode that is Reflector.
(Source: www.tfwiki.net)

TF-Robots store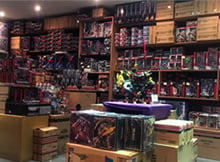 Openings hours (starting from 26 June 2021) :
| | |
| --- | --- |
| Wednesday | 14:00h - 17:00h |
| Thursday | 14:00h - 17:00h |
| Friday | 14:00h - 17:00h |
| Saturday | 11:00h - 17:00h |

Address:
Kromstraat 25, Veldhoven.
More information here.

Fixed shipping fee with tracking
All shipments with insurance - no risk when losing shipments
Shipped from The Netherlands - no import tax in all EU-Countries
Shopping cart
No items in shopping cart.