Reflector
Reflector likes to watch. He lives (they live?) to observe anything and everything, from scenery, to wildlife, to architecture. But above all else, Reflector likes to watch his (their?) comrades, learn their dark secrets, and profit from them. Reflector is also very impressed with his (their) own abilities both in the fields of observation and blackmail.
Reflector is generally composed of three separate robots—Spectro, Spyglass and Viewfinder—who combine into the one single-lens-reflex camera altmode that is Reflector.
(Source: www.tfwiki.net)
Winkelwagen
Geen artikelen in winkelwagen.


TF-Robots winkel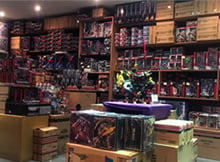 Openingstijden winkel
(Info leveranciers hier)

| | |
| --- | --- |
| Woensdag | 14:00 uur - 17:00 uur |
| Donderdag | 14:00 uur - 17:00 uur |
| Vrijdag | 14:00 uur - 17:00 uur |
| Zaterdag | 11:00 uur - 17:00 uur |
Attentie:
Onze winkel in Veldhoven is gesloten vanaf vrijdag 10 februari tot en met vrijdag 17 februari. Op zaterdag 18 februari is onze winkel in Veldhoven weer open.
Adres:
Kromstraat 25, Veldhoven.
Meer informatie hier.

Snelle levering* - Op werkdagen voor 15:00u besteld, dezelfde dag verzonden.
Altijd verzekerd verzonden* - geen risico bij vermissing pakketten
Uitgebreid assortiment
*m.u.v. situaties waarbij sprake is van overmacht.