Snarl
Snarl is an unhappy, unsociable loner. He grudgingly follows Grimlock's orders and that's about it. He leaves thinking to others. He has few opinions and rarely expresses those he has. Snarl's uncommunicative nature only serves to fuel his sense of isolation. On top of all this, he hates the ungainly stegosaur form given him by the Ark and feels that the war on Earth means he may never see his beloved Cybertron again. Snarl is a profoundly unhappy being.
Only in war does Snarl feel happiness. Only the joy of combat washes away the ache in his spark, and lets him forget anything but the rising thrill of the fight. For these reasons Snarl revels in combat more than even his fellow Dinobots.
(Source: www.tfwiki.net)
Winkelwagen
Geen artikelen in winkelwagen.


TF-Robots winkel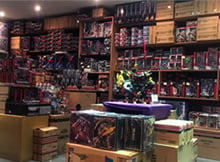 Openingstijden winkel
(Info leveranciers hier)

| | |
| --- | --- |
| Woensdag | 14:00 uur - 17:00 uur |
| Donderdag | 14:00 uur - 17:00 uur |
| Vrijdag | 14:00 uur - 17:00 uur |
| Zaterdag | 11:00 uur - 17:00 uur |
Attentie:
Onze winkel in Veldhoven is gesloten vanaf vrijdag 10 februari tot en met vrijdag 17 februari. Op zaterdag 18 februari is onze winkel in Veldhoven weer open.
Adres:
Kromstraat 25, Veldhoven.
Meer informatie hier.

Snelle levering* - Op werkdagen voor 15:00u besteld, dezelfde dag verzonden.
Altijd verzekerd verzonden* - geen risico bij vermissing pakketten
Uitgebreid assortiment
*m.u.v. situaties waarbij sprake is van overmacht.