Warpath
Warpath is the stereotypical tank commander: loud, boisterous, skilled, confident, devoted to his buddies, and probably a little deaf. His armor is tremendously thick; his skull no less. He loves to show off by splitting hex nuts a mile and a half away, and he has an endless variety of special munitions to load in his prized main gun: cryogenic, acid, thermal, and sonic. His most favorite, however, are the simple explosive shells that go off with a huge explosion, KABOOM!
His gun...how Warpath loves his gun. Prominent and useful in both modes, she has saved his life countless times, and she gets only the best in return. How he loves to line her sights up precisely on a barely visible target, and KAZOWY! blow it to shrapnel with a single well-placed shell. A dud annoys him; a miss is near-fatal embarrassment. A mere scratch to his gun's barrel keeps him up, late into the night, polishing it away. When on occasion his gun is damaged seriously enough to impair her function, he is practically inconsolable for weeks.
(Source: www.tfwiki.net)
Out of stock

Out of stock

Fanstoys FT-41 Sheridan

Please note: These are the last few pieces from our supplier. Price is much higher due the huge increase of the shipping fee.

Manufacturer: Fanstoys
Code: FT-41 Sheridan
Height:
CHOKING HAZARD: This product may contain small…

Hasbro WFC Kingdom Deluxe Warpath

Manufacturer: Hasbro
Code: Hasbro WFC Kingdom Deluxe Warpath
Height: ~
CHOKING HAZARD: This product may contain small parts. It is not a toy and only suitable for the persons over 15 years old.

Attention: ∙ No Guarantee on mint…

€ 22,99

TF-Robots winkel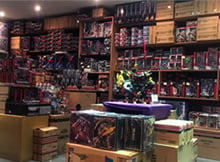 Openingstijden winkel
Zaterdag 11:00 uur - 17:00 uur

Vanaf zaterdag 8 april is het weer mogelijk om onze winkel op afspraak te bezoeken op de zaterdagen. U kunt een tijdsblok reserveren van 30 minuten. Voor het maken van een afspraak kunt u een e-mail sturen naar service@tfrobots.nl.
Daarnaast is het ophalen van bestellingen aan de deur ook gewoon mogelijk van maandag tot en met zaterdag. U krijgt een e-mail van ons als de bestelling klaar ligt.
Adres:
Kromstraat 25, Veldhoven.
Meer informatie hier.

Snelle levering* - voor 15:00u besteld, volgende dag geleverd
Altijd verzekerd verzonden* - geen risico bij vermissing pakketten
Uitgebreid assortiment
*m.u.v. situaties waarbij sprake is van overmacht.
Winkelwagen
Geen artikelen in winkelwagen.