Dinoking
Dinoking (ダイノキング Dainokingu) is the combination of all six Dinoforce warriors. With the bodies and minds of all six members combined into one he is the top Decepticon when it comes to mindless violence. He enhances the natural abilities of all the members of the force and adds a few of his own. His brain power however, is about the same as any individual Dinoforce member, and he is somewhat insubordinate when it comes to taking orders and prefers to go about fighting in his own fashion.
Dinoking has a fierce rivalry with the Autobot Combiner, Landcross. He will stop at nothing to destroy his enemy.
Dinoking is composed of:
Goryu (leader)
Kakuryu
Gairyu
Yokuryu
Rairyu
Doryu
(Source: www.tfwiki.net)
Winkelwagen
Geen artikelen in winkelwagen.


TF-Robots winkel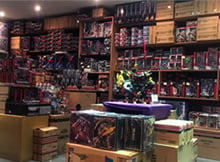 Openingstijden winkel:
(Info leveranciers hier)
| | |
| --- | --- |
| Woensdag | 14:00 uur - 17:00 uur |
| Donderdag | 14:00 uur - 17:00 uur |
| Vrijdag | 14:00 uur - 17:00 uur |
| Zaterdag | 11:00 uur - 17:00 uur |
Adres:
Fabrieksweg 3K, Bladel

Snelle levering* - Op werkdagen voor 13:00u besteld, dezelfde dag verzonden.
Altijd verzekerd verzonden* - geen risico bij vermissing pakketten
Uitgebreid assortiment
*m.u.v. situaties waarbij sprake is van overmacht.