Arcee
Arcee is the only female Autobot to appear on a regular basis. She was created in an effort by the film's producers to expand the market audience to include girls as well as to appear less sexist. Some have criticized the character for being overly stereotypically female due mainly to her need to protect Daniel Witwicky and act as a surrogate mother, but she is still shown to be a tough female warrior (i.e.: The Dweller in the Depths). She eventually becomes a Headmaster with Daniel (in an Exo-suit) forming her head. Although she has been paired with Springer (for most of Season 3), Chromedome (2 episodes of the second half of Headmasters) and Brainstorm (most of the second half of Headmasters), she seems to be more attached to Hot Rod/Rodimus Prime (in the Movie and Dark Awakening and the first half of Headmasters).
(Source: Wikipedia)
Winkelwagen
Geen artikelen in winkelwagen.


TF-Robots winkel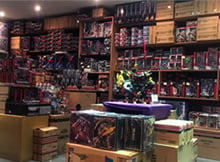 Openingstijden winkel:
(Info leveranciers hier)
| | |
| --- | --- |
| Woensdag | 14:00 uur - 17:00 uur |
| Donderdag | 14:00 uur - 17:00 uur |
| Vrijdag | 14:00 uur - 17:00 uur |
| Zaterdag | 11:00 uur - 17:00 uur |
Adres:
Fabrieksweg 3K, Bladel

Snelle levering* - Op werkdagen voor 13:00u besteld, dezelfde dag verzonden.
Altijd verzekerd verzonden* - geen risico bij vermissing pakketten
Uitgebreid assortiment
*m.u.v. situaties waarbij sprake is van overmacht.