Superion - Aerialbots
As the first of the Autobot combiners, Superion is an imperfect warrior at best. In other gestalt Transformers, the mental aspect of combination has famously resulted in instability and insanity, as disparate personalities have been meshed into one mismatched whole. Superion aims to overcome this not by achieving a more thorough melding of the minds, but rather, by shutting out all the different, conflicting personalities of the Aerialbots who compose him. He suppresses absolutely everything save for his dedication to the destruction of the Decepticons, and his rival Menasor in particular—something that he is especially good at, despite the fact that his strangled thought processes leave him struggling to innovate or adapt to new tactics in battle. Other Autobots mistakenly interpret this single-mindedness and inability to engage on a social level as aloofness, as if Superion considered himself to be above his teammates, but he is truly physically and mentally incapable of giving any more of himself.
Superion is made up of the five Aerialbots:
Silverbolt (torso)
Air Raid (left leg)
Fireflight (right arm)
Skydive (right leg)
Slingshot (left arm)
In some universes, Airazor or Alpha Bravo replace Slingshot on the team, and Powerglide transforms into Superion's weapon.
(Source: www.tfwiki.net)
Winkelwagen
Geen artikelen in winkelwagen.


TF-Robots winkel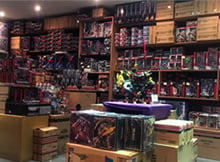 Openingstijden winkel:
(Info leveranciers hier)
| | |
| --- | --- |
| Woensdag | 14:00 uur - 17:00 uur |
| Donderdag | 14:00 uur - 17:00 uur |
| Vrijdag | 14:00 uur - 17:00 uur |
| Zaterdag | 11:00 uur - 17:00 uur |
Adres:
Fabrieksweg 3K, Bladel

Snelle levering* - Op werkdagen voor 13:00u besteld, dezelfde dag verzonden.
Altijd verzekerd verzonden* - geen risico bij vermissing pakketten
Uitgebreid assortiment
*m.u.v. situaties waarbij sprake is van overmacht.