Shockwave
Shockwave has been referred to as "a computer on legs." This is not far from the truth. Logic rules Shockwave's thought processes and is the source of his every inspiration. He sees emotion as a weakness and a distraction. His cold and calculating modus operandi is supported by his frightening and exceptionally powerful form.
Shockwave is possibly even more powerful than Megatron. Perhaps logic may one day dictate that the time to replace Megatron's flawed, emotion-fueled rule is at hand. After all, the only logical choice for Decepticon leader would be Shockwave himself.
As an Action Master, he is partnered with Fistfight. He is also known as Shockblast.
(Source: www.tfwiki.net)

TF-Robots winkel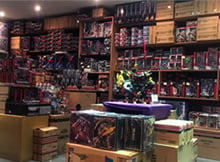 Openingstijden:
| | | |
| --- | --- | --- |
| Woensdag | 13:30-17:00 | |
| Donderdag | 13:30-17:00 | |
| Vrijdag | 13:30-17:00 | |
| Zaterdag | 11:00-17:00 | |
ONZE WINKEL IN VELDHOVEN IS TOT 10 FEBRUARI 2021 GESLOTEN. BESTELLINGEN ONLINE WORDEN GEWOON VERWERKT EN VERZONDEN.

Adres:
Kromstraat 25, Veldhoven.
Meer informatie hier.

Snelle levering* - voor 15:00u besteld, volgende dag geleverd
Altijd verzekerd verzonden* - geen risico bij vermissing pakketten
Uitgebreid assortiment
*m.u.v. situaties waarbij sprake is van overmacht.
Winkelwagen
Geen artikelen in winkelwagen.