Skywarp
Teleportation is a dangerous tool in the hands of a capable adversary. Thankfully for the Autobots, Skywarp is the only Decepticon who possesses that ability. Skywarp's not so bright, so without supervision he's worthless as a warrior. He mostly uses his teleportation power for immature pranks on both friend and foe. He takes a charmingly puerile angle at thuggery, so his pranks are well-received amongst his Decepticon peers (excepting the victim, of course).
Because, come on, a surprise push down a staircase is hilarious.
Sometimes he is known as Hellwarp.
(Source: www.tfwiki.net)
Winkelwagen
Geen artikelen in winkelwagen.


TF-Robots winkel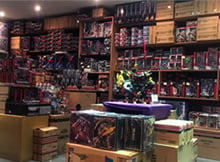 Openingstijden winkel:
(Info leveranciers hier)
| | |
| --- | --- |
| Woensdag | 14:00 uur - 17:00 uur |
| Donderdag | 14:00 uur - 17:00 uur |
| Vrijdag | 14:00 uur - 17:00 uur |
| Zaterdag | 11:00 uur - 17:00 uur |
Adres:
Fabrieksweg 3K, Bladel

Snelle levering* - Op werkdagen voor 13:00u besteld, dezelfde dag verzonden.
Altijd verzekerd verzonden* - geen risico bij vermissing pakketten
Uitgebreid assortiment
*m.u.v. situaties waarbij sprake is van overmacht.