Devastator - Constructicons
Devastator is an immensely powerful warrior, and in that sense the combination of the Constructicons into a merged being is a huge success. Mentally, on the other hand, he's very much less than the sum of his parts. Devastator's primitive psyche is limited to only the thoughts and actions on which all his components can agree, which results in raging bouts of destructive fury. Given the sheer power Devastator brings to these rages, Megatron has no complaints.
As an Action Master, he is partnered with Scorpulator.
Normally he is composed of the six robots...
Scrapper (leader) — right leg
Hook — upper body
Bonecrusher — left arm
Long Haul — lower body
Mixmaster — left leg
Scavenger — right arm
However, in at least one reality, he goes from being a six-robot combiner to a five-bot one, Hook and Mixmaster being replaced by Hightower. In another, he is rebuilt with a modular design that allows Hook to replace Scrapper as the right leg, and any robot built with a compatible design to form the head, including Prowl and Megatron. Later on, he was outfitted to have Scoop make up another part of the combiner.
(Source: www.tfwiki.net)

TF-Robots winkel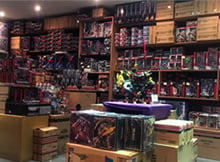 Openingstijden winkel
Zaterdag 11:00 uur - 17:00 uur

Vanaf zaterdag 8 april is het weer mogelijk om onze winkel op afspraak te bezoeken op de zaterdagen. U kunt een tijdsblok reserveren van 30 minuten. Voor het maken van een afspraak kunt u een e-mail sturen naar service@tfrobots.nl.
Daarnaast is het ophalen van bestellingen aan de deur ook gewoon mogelijk van maandag tot en met zaterdag. U krijgt een e-mail van ons als de bestelling klaar ligt.
Adres:
Kromstraat 25, Veldhoven.
Meer informatie hier.

Snelle levering* - voor 15:00u besteld, volgende dag geleverd
Altijd verzekerd verzonden* - geen risico bij vermissing pakketten
Uitgebreid assortiment
*m.u.v. situaties waarbij sprake is van overmacht.
Winkelwagen
Geen artikelen in winkelwagen.