Rodimus Prime - Hot Rod
Hot Rod is brash and headstrong, with an overwhelming self-confidence that borders on arrogance. Kup has assumed the role of mentor and advisor to the impetuous young Hot Rod, offering him wisdom and advice when he needs it (though Hot Rod rarely feels that he does, much to Kup's annoyance). Arcee also serves as a calming influence on Hot Rod, and tends to either worry about him when he is not around, or deride and tease him when he is. Their relationship is antagonistic, but friendly. Exactly how deep Hot Rod's feelings for Arcee might run is unknown, whether they be friendly, romantic, or otherwise.
In contrast, his Rodimus Prime persona—while still headstrong and stubborn—seems to suffer from a severe lack of confidence, often doubting his own decisions and expressing distress over his position as an Autobot leader. Of course, much of this comes from comparisons with his former commander Optimus Prime—and let's face it, shoes-to-be-filled just don't get much bigger than that.
One thing that both sides of this Autobot's identity have in common is their impatience—neither Hot Rod nor Rodimus Prime can stand to wait around when they could be doing something instead. He is also very self-reliant, rarely sending others to do anything when he could be doing it himself. His Targetmaster partner is Firebolt. As Rodimus Prime, his vehicle sometimes splits between his robot and Mobile Defense Bay.
(Source: www.tfwiki.net)

TF-Robots winkel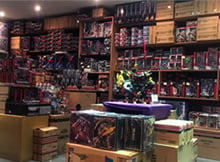 Openingstijden winkel
Zaterdag 11:00 uur - 17:00 uur

Vanaf zaterdag 8 april is het weer mogelijk om onze winkel op afspraak te bezoeken op de zaterdagen. U kunt een tijdsblok reserveren van 30 minuten. Voor het maken van een afspraak kunt u een e-mail sturen naar service@tfrobots.nl.
Daarnaast is het ophalen van bestellingen aan de deur ook gewoon mogelijk van maandag tot en met zaterdag. U krijgt een e-mail van ons als de bestelling klaar ligt.
Adres:
Kromstraat 25, Veldhoven.
Meer informatie hier.

Snelle levering* - voor 15:00u besteld, volgende dag geleverd
Altijd verzekerd verzonden* - geen risico bij vermissing pakketten
Uitgebreid assortiment
*m.u.v. situaties waarbij sprake is van overmacht.
Winkelwagen
Geen artikelen in winkelwagen.