Metroplex
Startlingly versatile, staggeringly strong, the Autobots last line of defense... a mighty instrument of titanic destructive force. Extremely modest about his achievements... berates himself for not doing more. In robot mode, he can lift 70,000 tons, has shoulder-mounted twin high-energy maser cannons and omni-directional receiving and transmitting antenna. In city mode, has helipad and fully equipped repair bays that can handle four vehicles at once. Left rear tower transforms into tank, Slammer, who has rocket-propelled mortar cannon. Scamper is sports car with side mounted electro-blasters; transforms into robot, uses high-energy particle beam pistol. Six-gun is small robot, has ion-pulse rifles for arms, twin surface-to-air guided missile launchers on back, acetylene pistol. In battle station mode, uses all these weapons and twin disrupter rays, laser lances, powerful anti-matter projectors.
(Source: Wikipedia)

TF-Robots winkel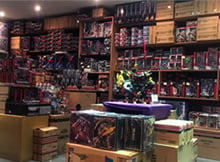 Openingstijden winkel
Zaterdag 11:00 uur - 17:00 uur

Vanaf zaterdag 8 april is het weer mogelijk om onze winkel op afspraak te bezoeken op de zaterdagen. U kunt een tijdsblok reserveren van 30 minuten. Voor het maken van een afspraak kunt u een e-mail sturen naar service@tfrobots.nl.
Daarnaast is het ophalen van bestellingen aan de deur ook gewoon mogelijk van maandag tot en met zaterdag. U krijgt een e-mail van ons als de bestelling klaar ligt.
Adres:
Kromstraat 25, Veldhoven.
Meer informatie hier.

Snelle levering* - voor 15:00u besteld, volgende dag geleverd
Altijd verzekerd verzonden* - geen risico bij vermissing pakketten
Uitgebreid assortiment
*m.u.v. situaties waarbij sprake is van overmacht.
Winkelwagen
Geen artikelen in winkelwagen.