Scorponok
Despair and isolation are all that remain in his wake. Like Astrotrain, he believes the poor should be exploited, the weak oppressed, and the noble corrupted. Others' pain is his sole pleasure. In scorpion mode, tail shoots 100,000 volt electric bursts, has twin pulse blasters, claws can crush mountains. In defense base mode, has over-the-horizon radar, communications center, anti-aircraft sonic cannon, repair bay, construction bay; semi-autonomous armored interceptor with dual photon cannons that patrol the base perimeter. In robot mode, has fusion-powered anti-gravity gin. Binary-bonded to Lord Zarak, leader of the evil Nebulans.
NOTE: In the comics, Scorponok is a triple-changer (scorpion-like construction vehicle, space fighter, robot; no headmaster) who is constantly pursued by Ultra Magnus.
(Source: Wikipedia)

TF-Robots winkel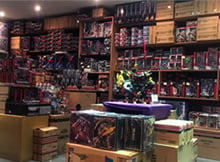 Openingstijden winkel (vanaf 23 juni 2021)
| | |
| --- | --- |
| Woensdag | 14:00 uur - 17:00 uur |
| Donderdag | 14:00 uur - 17:00 uur |
| Vrijdag | 14:00 uur - 17:00 uur |
| Zaterdag | 11:00 uur - 17:00 uur |
In de winkel is het dragen van een mondkapje verplicht.
Adres:
Kromstraat 25, Veldhoven.
Meer informatie hier.

Snelle levering* - voor 15:00u besteld, volgende dag geleverd
Altijd verzekerd verzonden* - geen risico bij vermissing pakketten
Uitgebreid assortiment
*m.u.v. situaties waarbij sprake is van overmacht.
Winkelwagen
Geen artikelen in winkelwagen.