Goldbug
After Bumblebee was badly damaged while fighting a hate-plague infected Superion, he was rebuilt as a Throttlebot by a Quintesson who was aiding the Autobots at the time. The newly brought back to life Optimus Prime gave Bumblebee his new name Goldbug due to his new look. As Goldbug, he has the mind of the Autobot Bumblebee, but with a new, improved body. More serious, assertive, mature than he was. Realizes what others think of him isn't nearly as important as what he thinks of himself. Excellent fuel efficiency; 2 1/2 times better than the next best Throttlebot. Adaptable to underwater, cold and hot environments. Can withstand temperatures from -150 to 180 degrees Fahrenheit.
(Source: Wikipedia)
Winkelwagen
Geen artikelen in winkelwagen.


TF-Robots winkel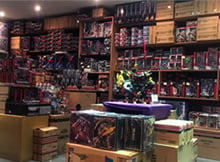 Openingstijden winkel:
(Info leveranciers hier)
| | |
| --- | --- |
| Woensdag | 14:00 uur - 17:00 uur |
| Donderdag | 14:00 uur - 17:00 uur |
| Vrijdag | 14:00 uur - 17:00 uur |
| Zaterdag | 11:00 uur - 17:00 uur |
Adres:
Fabrieksweg 3K, Bladel

Snelle levering* - Op werkdagen voor 13:00u besteld, dezelfde dag verzonden.
Altijd verzekerd verzonden* - geen risico bij vermissing pakketten
Uitgebreid assortiment
*m.u.v. situaties waarbij sprake is van overmacht.