Nancy
Nancy is a Junkion who appears to be the consort of the Junkion leader Wreck-Gar, and is the only known female Junkion. Nancy also seems to have some sort of relationship with a Wreck-Gar as well, perhaps a romantic one. The only transformer with a human name, she spending countless hours watching TV, and like all Junkions she can be blasted to pieces without taking any noticeable permanent damage, and is capable of repairing herself within seconds.
(Source: Wikipedia)
Winkelwagen
Geen artikelen in winkelwagen.


TF-Robots winkel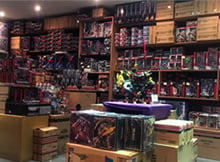 Openingstijden winkel
(Info leveranciers hier)

| | |
| --- | --- |
| Woensdag | 14:00 uur - 17:00 uur |
| Donderdag | 14:00 uur - 17:00 uur |
| Vrijdag | 14:00 uur - 17:00 uur |
| Zaterdag | 11:00 uur - 17:00 uur |
Attentie:
Onze winkel in Veldhoven is gesloten vanaf vrijdag 10 februari tot en met vrijdag 17 februari. Op zaterdag 18 februari is onze winkel in Veldhoven weer open.
Adres:
Kromstraat 25, Veldhoven.
Meer informatie hier.

Snelle levering* - Op werkdagen voor 15:00u besteld, dezelfde dag verzonden.
Altijd verzekerd verzonden* - geen risico bij vermissing pakketten
Uitgebreid assortiment
*m.u.v. situaties waarbij sprake is van overmacht.