Sideswipe
Sideswipe is not nearly as much of a sociopath as his brother Sunstreaker, but he is every bit as skillful. He's more into battle for the sport of it. A bit of a jock, Sideswipe most craves a glorious fight to the finish as a test of his mettle.
There is a reckless edge to Sideswipe's tactics. He makes rash decisions that may endanger him, all in the name of possible victory. Cheating is also not out of the question. When everything is on the line, for Sideswipe, nothing is out of the question. Over time, his reckless attitude has not changed. However, his cause has; once in it solely for the glory, now he's driven by the desire to defend freedom and the innocent.
(Source: www.tfwiki.net)
Winkelwagen
Geen artikelen in winkelwagen.


TF-Robots winkel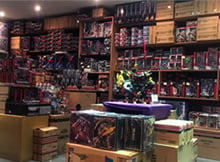 Openingstijden winkel:
(Info leveranciers hier)
| | |
| --- | --- |
| Woensdag | 14:00 uur - 17:00 uur |
| Donderdag | 14:00 uur - 17:00 uur |
| Vrijdag | 14:00 uur - 17:00 uur |
| Zaterdag | 11:00 uur - 17:00 uur |
Adres:
Fabrieksweg 3K, Bladel

Snelle levering* - Op werkdagen voor 13:00u besteld, dezelfde dag verzonden.
Altijd verzekerd verzonden* - geen risico bij vermissing pakketten
Uitgebreid assortiment
*m.u.v. situaties waarbij sprake is van overmacht.