Sludge
"Sludge dumb" is how Grimlock, the Dinobot commander himself, describes the plodding Autobot. The Dinobots have a perhaps undeserved reputation for being dimwitted, but Sludge is the genuine article. He makes the other four look like scholars in comparison.
As Sludge can't make much of an impression in the mental department, he likes to make his presence known physically. He'll stomp his hefty hide around just so you know he's there. None of the Dinobots really like Optimus Prime, but he and Slag share an especially intense dislike for him. Sludge believes that the strongest should lead, and in his mind, Grimlock is the strongest Autobot. But Sludge genuinely believes in the Autobot cause, so he tolerates Prime. Beyond that, Sludge is actually what you might call nice... Maybe not to Swoop's level, but nicer than the other guys.
(Source: www.tfwiki.net)
Winkelwagen
Geen artikelen in winkelwagen.


TF-Robots winkel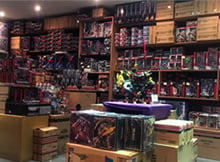 Openingstijden winkel:
(Info leveranciers hier)
| | |
| --- | --- |
| Woensdag | 14:00 uur - 17:00 uur |
| Donderdag | 14:00 uur - 17:00 uur |
| Vrijdag | 14:00 uur - 17:00 uur |
| Zaterdag | 11:00 uur - 17:00 uur |
Adres:
Fabrieksweg 3K, Bladel

Snelle levering* - Op werkdagen voor 13:00u besteld, dezelfde dag verzonden.
Altijd verzekerd verzonden* - geen risico bij vermissing pakketten
Uitgebreid assortiment
*m.u.v. situaties waarbij sprake is van overmacht.