Soundwave
Soundwave is one of Megatron's most reliable troops, and he has positioned himself comfortably and irreplaceably in the Decepticon upper command structure. Though "only" Communications Officer, Soundwave stands at Megatron's side as a confidant, comparable in rank to Starscream and Shockwave, but unlike them, entirely loyal to his leader. Though stoic and possessed of little outward personality (as evidenced by his monotone computer-style speech), Soundwave is not without drives: he has worked hard to get where he is, and he guards his place in the Decepticon hierarchy fiercely. On top of hearing all in his role as Communications Officer and Decepticon spy-master, he is actually capable of "reading minds" by scanning and decoding the electrical impulses that carry "thoughts" in both organics and Cybertronians, and he will not hesitate to use what he learns as blackmail to keep himself high in Megatron's esteem. As such, Soundwave is not popular among the rank-and-file Decepticons, who see him as a two-faced snake and wouldn't mind abandoning him on the battlefield—if they thought Megatron would let them get away with it.
Soundwave commands an ever-growing legion of cassette troops to carry out tasks big and small. Stored within his signature chest compartment and called forth on Soundwave's whim with a push of a button, these miniature menaces are most commonly employed as spies for either the Decepticon cause or Soundwave's personal objectives, but are just as effective as warriors, and are entirely devoted to their master. They are also not Soundwave's only diminutive partners: as an Action Master, he is partnered with Wingthing.
(Source: www.tfwiki.net)
Winkelwagen
Geen artikelen in winkelwagen.


TF-Robots winkel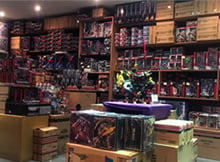 Openingstijden winkel:
(Info leveranciers hier)
| | |
| --- | --- |
| Woensdag | 14:00 uur - 17:00 uur |
| Donderdag | 14:00 uur - 17:00 uur |
| Vrijdag | 14:00 uur - 17:00 uur |
| Zaterdag | 11:00 uur - 17:00 uur |
Adres:
Fabrieksweg 3K, Bladel

Snelle levering* - Op werkdagen voor 13:00u besteld, dezelfde dag verzonden.
Altijd verzekerd verzonden* - geen risico bij vermissing pakketten
Uitgebreid assortiment
*m.u.v. situaties waarbij sprake is van overmacht.