Scourge
Scourge is fearsome, merciless and an implacable hunter. Created from the remains of Thundercracker, he leads "The Sweeps", a wolf pack of tracker-terminators designed to hunt down and eradicate Autobots. Scourge possesses powerful high-tech scanning equipment and a disintegrater ray that can cut through solid rock. In robot mode, he carries a laser blaster that shoots short bursts of intense heat. Scourge's only weakness is his arrogance. As a Targetmaster, he is paired with Fracas, a high-temperature incendiary cannon with a volatile temper to match.
(Source: Wikipedia)
Winkelwagen
Geen artikelen in winkelwagen.


TF-Robots winkel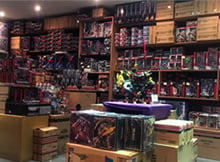 Openingstijden winkel:
(Info leveranciers hier)
| | |
| --- | --- |
| Woensdag | 14:00 uur - 17:00 uur |
| Donderdag | 14:00 uur - 17:00 uur |
| Vrijdag | 14:00 uur - 17:00 uur |
| Zaterdag | 11:00 uur - 17:00 uur |
Adres:
Fabrieksweg 3K, Bladel

Snelle levering* - Op werkdagen voor 13:00u besteld, dezelfde dag verzonden.
Altijd verzekerd verzonden* - geen risico bij vermissing pakketten
Uitgebreid assortiment
*m.u.v. situaties waarbij sprake is van overmacht.