Searchlite
is a quiet and withdrawn member of the Throttlebots. A silent spy, he is most at home in the blackest night, not because of what the darkness covers, but for what it reveals. When he cruises through darkened cities or over deserted plains, he has no need to switch on his two 10,000 watt driving lamps: his front-mounted sensor array brings him a subtle panorama that the daylight only overwhelms in its fiery radiance. Searchlight sees all, be it in the dimmest spark of visible light, or in the infrared spectrum, or elsewhere in the realm of electromagnetic radiation. His X-ray capacity lets him look through objects, and his spectroscope allows him to analyze their composition. All of this he can record in stereoscopic, digital video. This amazing array even gives him some offensive capacity; he can blind foes with a dazzling, stroboscopic flash from his driving lamps, but this is painful and disorienting to his well-tuned optics.
(Source: www.tfwiki.net)
Winkelwagen
Geen artikelen in winkelwagen.


TF-Robots winkel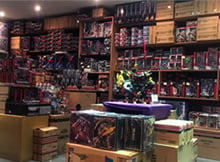 Openingstijden winkel:
(Info leveranciers hier)
| | |
| --- | --- |
| Woensdag | 14:00 uur - 17:00 uur |
| Donderdag | 14:00 uur - 17:00 uur |
| Vrijdag | 14:00 uur - 17:00 uur |
| Zaterdag | 11:00 uur - 17:00 uur |
Adres:
Fabrieksweg 3K, Bladel

Snelle levering* - Op werkdagen voor 13:00u besteld, dezelfde dag verzonden.
Altijd verzekerd verzonden* - geen risico bij vermissing pakketten
Uitgebreid assortiment
*m.u.v. situaties waarbij sprake is van overmacht.