Wreck-Gar
Wreck-Gar is the leader of the Junkions, a race of junk robots, and is the most well known Junkion. He's made of rusted scraps, chassis bits, mantfold parts, and dented odd and ends. A little scatterbrained, he speaks in odd-ryming, pieced together sentences. His words are a junkyard collection of broadcast fragments from TV commercials and radio jingles. In robot mode he carries an armor axe and a decelerator laser that inhibits an enemy robot's flow of cerebal impulses. When blasted he transformers he transformers from motorcycle to robot mode back and forth so fast continuously that it repairs himself. Wreck-Gar and his fellow Junkions have allied themselves with the Autobots.
(Source: Wikipedia)
Winkelwagen
Geen artikelen in winkelwagen.


TF-Robots winkel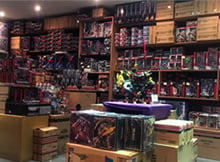 Openingstijden winkel:
(Info leveranciers hier)
| | |
| --- | --- |
| Woensdag | 14:00 uur - 17:00 uur |
| Donderdag | 14:00 uur - 17:00 uur |
| Vrijdag | 14:00 uur - 17:00 uur |
| Zaterdag | 11:00 uur - 17:00 uur |
Adres:
Fabrieksweg 3K, Bladel

Snelle levering* - Op werkdagen voor 13:00u besteld, dezelfde dag verzonden.
Altijd verzekerd verzonden* - geen risico bij vermissing pakketten
Uitgebreid assortiment
*m.u.v. situaties waarbij sprake is van overmacht.