Swoop
Swoop is the friendliest and most outgoing of the Dinobots. He's surprisingly good natured, kind, and upbeat. Few of his comrades realize this however, as his team's reputation and his alt-form, considered (for some reason) particularly "horrifying" to Transformer aesthetics, makes others wary of getting close enough to learn about the bot himself. Swoop is an excellent aerial combatant and bombardier, and has become skilled at using the fear his alt mode creates in battle. He considers it his greatest weapon. Like all the Dinobots, Swoop tends to be arrogant, disobedient, and generally disagree with Optimus Prime's leadership style. He's also a bit of a show-off.
(source: www.tfwiki.net)
Winkelwagen
Geen artikelen in winkelwagen.


TF-Robots winkel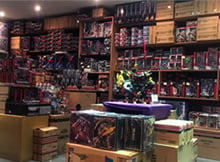 Openingstijden winkel
(Info leveranciers hier)

| | |
| --- | --- |
| Woensdag | 14:00 uur - 17:00 uur |
| Donderdag | 14:00 uur - 17:00 uur |
| Vrijdag | 14:00 uur - 17:00 uur |
| Zaterdag | 11:00 uur - 17:00 uur |
Attentie:
Onze winkel in Veldhoven is gesloten vanaf vrijdag 10 februari tot en met vrijdag 17 februari. Op zaterdag 18 februari is onze winkel in Veldhoven weer open.
Adres:
Kromstraat 25, Veldhoven.
Meer informatie hier.

Snelle levering* - Op werkdagen voor 15:00u besteld, dezelfde dag verzonden.
Altijd verzekerd verzonden* - geen risico bij vermissing pakketten
Uitgebreid assortiment
*m.u.v. situaties waarbij sprake is van overmacht.