Fastlane / Cloudraker
Cloudraker often acts frustrated, can't reach escape velocity and achieve orbit. Extreme claustrophobe - feels the sky isn't big enough for him. Usually flies as high as he can. Terrified of being on the ground. In vehicle mode, uses 2 gravity-rod rifles to cause objects to float away or crash to the ground. Fastlane is a bit immature, sometimes acts like a thrill-seeking show-off, enjoys looking for new ways to get his kicks. Usually makes reckless driving a way of life. In vehicle mode, reaches maximum speed of 220 mph; maximum speed with booster jets: 550 mph. Range: 350 miles. In robot mode, carries two sonic boom rifles; one blast can shatter foot-thick steel.
(Source: Wikipedia)
Winkelwagen
Geen artikelen in winkelwagen.


TF-Robots winkel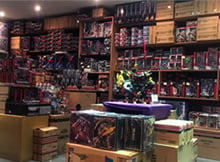 Openingstijden winkel
(Info leveranciers hier)

| | |
| --- | --- |
| Woensdag | 14:00 uur - 17:00 uur |
| Donderdag | 14:00 uur - 17:00 uur |
| Vrijdag | 14:00 uur - 17:00 uur |
| Zaterdag | 11:00 uur - 17:00 uur |
Attentie:
Onze winkel in Veldhoven is gesloten vanaf vrijdag 10 februari tot en met vrijdag 17 februari. Op zaterdag 18 februari is onze winkel in Veldhoven weer open.
Adres:
Kromstraat 25, Veldhoven.
Meer informatie hier.

Snelle levering* - Op werkdagen voor 15:00u besteld, dezelfde dag verzonden.
Altijd verzekerd verzonden* - geen risico bij vermissing pakketten
Uitgebreid assortiment
*m.u.v. situaties waarbij sprake is van overmacht.