Trypticon
Enormous in both size and power, Trypticon is an unstoppable engine of destruction. This might please him greatly... were he not bored by the entire prospect. He cares little for his role as the ultimate Decepticon weapon and finds war to be a waste of effort. He doesn't like his comrades, he absolutely hates the Autobots, and—though he hides it well—he loathes himself most of all.
Trypticon transforms to a massive artillery platform that can devastate Autobot forces, who often must resort to trickery to defeat him. The only Autobot who can go toe-to-toe with him is Metroplex, and there is a great rivalry between the two cities.
Trypticon is sometimes accompanied by one or more smaller robots, such as the autonomous Wipe-Out and the drones Full-Tilt and Brunt.
He hates water more than any other substance in the universe, mostly because he gets thrown into it a lot.
(Source: www.tfwiki.net)

TF-Robots winkel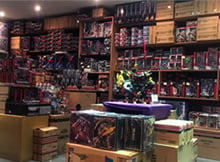 Openingstijden winkel
Zaterdag 11:00 uur - 17:00 uur

Vanaf zaterdag 8 april is het weer mogelijk om onze winkel op afspraak te bezoeken op de zaterdagen. U kunt een tijdsblok reserveren van 30 minuten. Voor het maken van een afspraak kunt u een e-mail sturen naar service@tfrobots.nl.
Daarnaast is het ophalen van bestellingen aan de deur ook gewoon mogelijk van maandag tot en met zaterdag. U krijgt een e-mail van ons als de bestelling klaar ligt.
Adres:
Kromstraat 25, Veldhoven.
Meer informatie hier.

Snelle levering* - voor 15:00u besteld, volgende dag geleverd
Altijd verzekerd verzonden* - geen risico bij vermissing pakketten
Uitgebreid assortiment
*m.u.v. situaties waarbij sprake is van overmacht.
Winkelwagen
Geen artikelen in winkelwagen.