Trypticon
Enormous in both size and power, Trypticon is an unstoppable engine of destruction. This might please him greatly... were he not bored by the entire prospect. He cares little for his role as the ultimate Decepticon weapon and finds war to be a waste of effort. He doesn't like his comrades, he absolutely hates the Autobots, and—though he hides it well—he loathes himself most of all.
Trypticon transforms to a massive artillery platform that can devastate Autobot forces, who often must resort to trickery to defeat him. The only Autobot who can go toe-to-toe with him is Metroplex, and there is a great rivalry between the two cities.
Trypticon is sometimes accompanied by one or more smaller robots, such as the autonomous Wipe-Out and the drones Full-Tilt and Brunt.
He hates water more than any other substance in the universe, mostly because he gets thrown into it a lot.
(Source: www.tfwiki.net)

TF-Robots store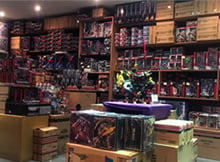 Openings hours (starting from 26 June 2021) :
| | |
| --- | --- |
| Wednesday | 14:00h - 17:00h |
| Thursday | 14:00h - 17:00h |
| Friday | 14:00h - 17:00h |
| Saturday | 11:00h - 17:00h |

Address:
Kromstraat 25, Veldhoven.
More information here.

Fixed shipping fee with tracking
All shipments with insurance - no risk when losing shipments
Shipped from The Netherlands - no import tax in all EU-Countries
Shopping cart
No items in shopping cart.