Huffer
Huffer is cynical, hard-boiled and pessimistic. "He looks at the world through sludge-colored windshields." Will complain it can't be built, then builds it anyway. Not too sociable, but absolutely reliable. Arm sensors can test materials for strength, heat resistance, elasticity, etc. Extremely strong. Superior mathematical and geometrical abilities. Often unhappy and homesick for Cybertron.
(Source: Wikipedia)

TF-Robots store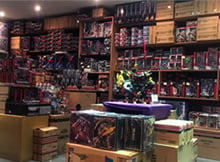 Openings hours:
Saturday 11:00h - 17:00h
To visit our shop, you have to make an appointment by e-mail: service@tfrobots.nl.

WEARING FACE COVERINGS IS MANDATORY WHEN VISITING OUR SHOP.

Address:
Kromstraat 25, Veldhoven.
More information here
.

Fixed shipping fee with tracking
All shipments with insurance - no risk when losing shipments
Shipped from The Netherlands - no import tax in all European Countries
Shopping cart
No items in shopping cart.