Kup
Kup is an old veteran warhorse with a thousand tall tales from his ten thousand adventures. He has a motto or word of advice for any situation and he's as brave and loyal as they come. In robot mode, he carries an old-style musket laser that shoots short bursts of metal-corrosive hydrochloric acid. Range: 5 miles. Speed: 100 mph. Kup sees himself as a seasoned campaigner with more knowledge and experience to share. Other Autobots arent always receptive to his advice. As a Targetmaster, he is binary-bonded to Recoil, an old style musket laser and former all-world prismaball player.
(Source: Wikipedia)

TF-Robots store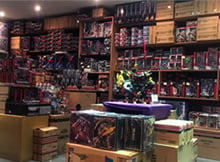 Openings hours:
Saturday 11:00h - 17:00h
To visit our shop, you have to make an appointment by e-mail: service@tfrobots.nl.

WEARING FACE COVERINGS IS MANDATORY WHEN VISITING OUR SHOP.

Address:
Kromstraat 25, Veldhoven.
More information here
.

Fixed shipping fee with tracking
All shipments with insurance - no risk when losing shipments
Shipped from The Netherlands - no import tax in all EU-Countries
Shopping cart
No items in shopping cart.