Pointblank
He's a somber, no-nonsense sort, weary from millions of years of war on Cybertron. Believes words can do more harm than weapons, so he has few to offer. Understands the reason for the Autobot-Nebulan alliance, but disapproves of it. Peacemaker, his stereophonic sonic blaster, is a Nebulan law enforcement official who's trying, but failing, to persuade Pointblank to be more accommodating.
(Source: Wikipedia)

TF-Robots store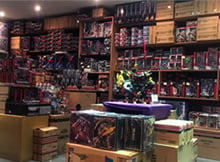 Openings hours:
Saturday 11:00h - 17:00h
To visit our shop, you have to make an appointment by e-mail: service@tfrobots.nl.

WEARING FACE COVERINGS IS MANDATORY WHEN VISITING OUR SHOP.

Address:
Kromstraat 25, Veldhoven.
More information here
.

Fixed shipping fee with tracking
All shipments with insurance - no risk when losing shipments
Shipped from The Netherlands - no import tax in all European Countries
Shopping cart
No items in shopping cart.