Drag Strip
Nasty, underhanded, loves to gloat over his victories. Would rather be scrapped than lose. Prone to overheating. Megatron would sooner melt him than talk to him, but knows he's even worse company for the Autobots. In car mode, has a plasma-energy blaster. Carries a gravity-enhancing gravito-gun.
(Source: Wikipedia)

TF-Robots store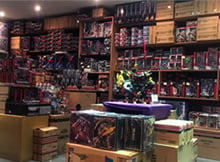 Openings hours:
Saturday 11:00h - 17:00h
To visit our shop, you have to make an appointment by e-mail: service@tfrobots.nl.

WEARING FACE COVERINGS IS MANDATORY WHEN VISITING OUR SHOP.

Address:
Kromstraat 25, Veldhoven.
More information here
.

Fixed shipping fee with tracking
All shipments with insurance - no risk when losing shipments
Shipped from The Netherlands - no import tax in all European Countries
Shopping cart
No items in shopping cart.